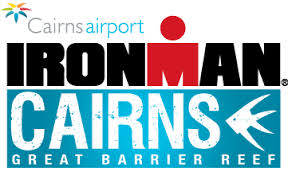 Race: Ironman Cairns
Time: 2014-06-06, start kl.07:46
Place: Cairns, Queensland, Australien
Distance: 3,86 km – 180 km – 42,2 km
My result, time: 1:04:41 min –5:08:06 h – 3:09:03 (9:25:56)
Miy result, place: 3:e place
Complete results: Find it HERE!
Short story:
It was a very rainy day. The swim was quite hard and choppy and for me it was a solo swim from the beginning, I had a lot of mechanical problems and navigation problems on the bike, which ended my theoretical chances of winning, but with a stable run, I managed to get a spot on the podium, and thus get ennough points to qulalify to the Ironman World Championships in Kona in October. That was my mission with the race, so I leave Cairns with satisfcation.
Long story (very long!)
Pre start:
Despite the limited time between IM Melbourne and IM Cairns, I got a few weeks of wuality training, both at Playitas, Fuerteventura, and in Odense with my club OTK.
I arrived seven days before the start, together with my good friend and training partner Maja, who was racing Ironman70.3 the day that I was racing Ironman, as the only place in the world where that is possible.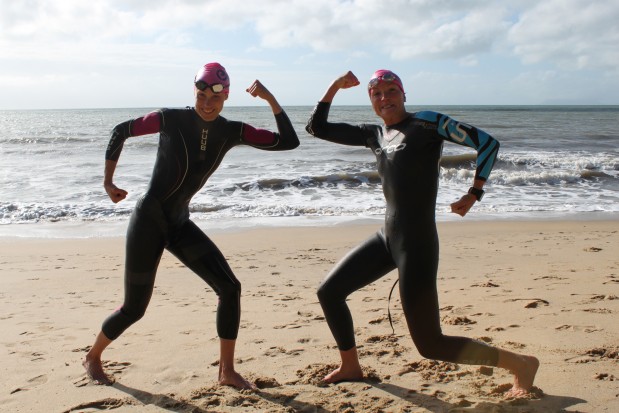 Even my sweet mummy chose to travel across the world to cheer for us.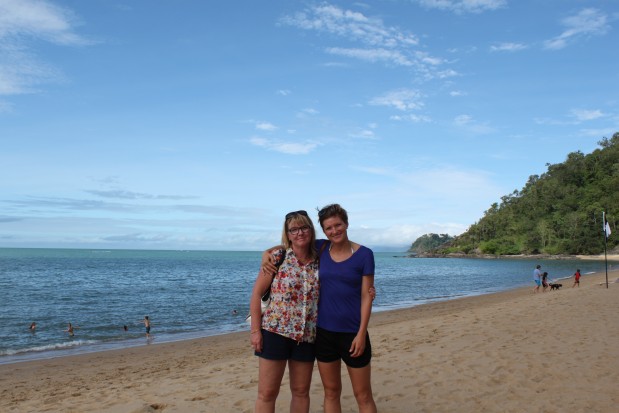 Thanks to a fantastic organization of the Ironman Asia Pacific, we have had a wonderful homestay with the Sager family, who have treated us as if we were royalty.
SWIM:
Despite a pretty good start, I lost any feet to draft on, and I was facing a solo swim all the way in the choppy water.
This was the first time I have ever had problem with navigation, and swimming almost 4 km feeling you are the only one out there, makes it harder to keep pushing the pace, regardless how hard you try to stay focused.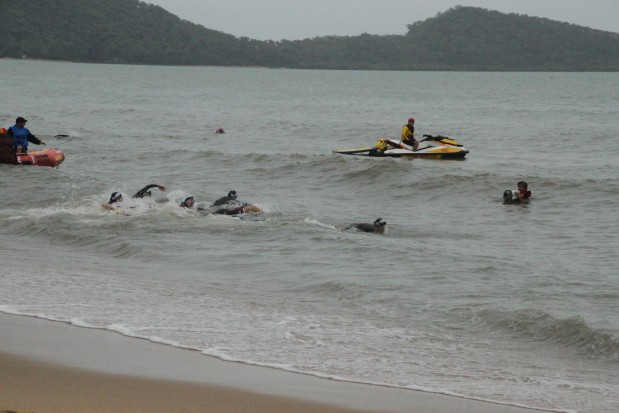 A time of 1:04:41 is nothing I am proud of, but taking the existing conditions in consideration, and comparing others swimmers times, so it was not too shabby. But I am still not satisfied with my performance, isolated.
BIKE:
During the race day, we got to experience real tropical rain, which lasted throughout the day. Never before have I seen so many athletes on the side of the road with a flat tire. I was just waiting for my turn to get a flat, but I was lucky. Nevertheless, I got my fair share of bad luck on the bike leg.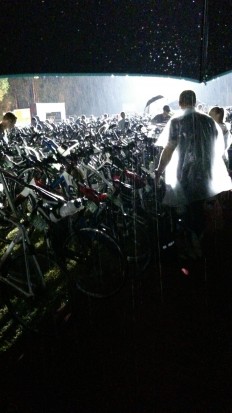 T1, race morning.
Right from starting the bike, I noticed the rear brake touching the disc wheel.I stopped a few times to try to separate the brakes, without any success. According to my bike computer, I lost almost 2 minutes from this, and I rode the 180 km with my rear brake touching the wheel.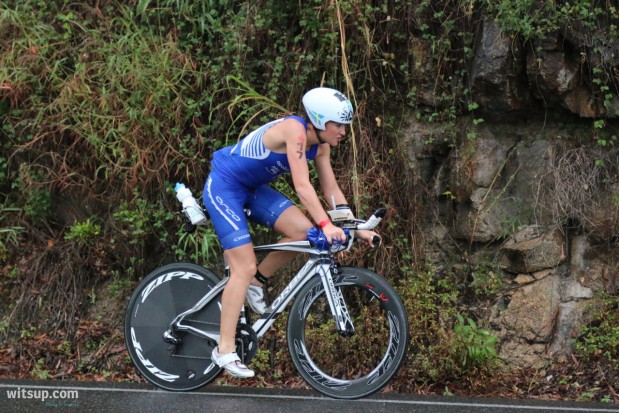 The biggest loss of time was, however, in the beginning of the bike leg, when everyone was riding south on Captain Cook Hwy for a while, before making a U-turn and ride north, so you wouldn't collide with 70.3-athletes who were heading south (they started 1 hour before IM pro). When I came out on Captain Cook Hwy, I ended up in the middle of a large group of 70.3 athletes. While having full focus on everyone else in the big group, at the same times as a girl told me my bottle cage was about to fall off, I missed the U-turn. After about 2 minutes the same girl turn around and looked at me several times, before asking me if I did the full distance. When I answered yes to the question, she said that I missed my turn.
I turned around, rode back to the start, stopped to ask a volounteer where the U-turn was, as I couldn't be sure that she was right. I had not seen the U-turn or any signs for it. The girl was right, and I had lost 4-5 min on this mistake, but it if wasn't for this sweet girl, I would probably still be on my bike – going south.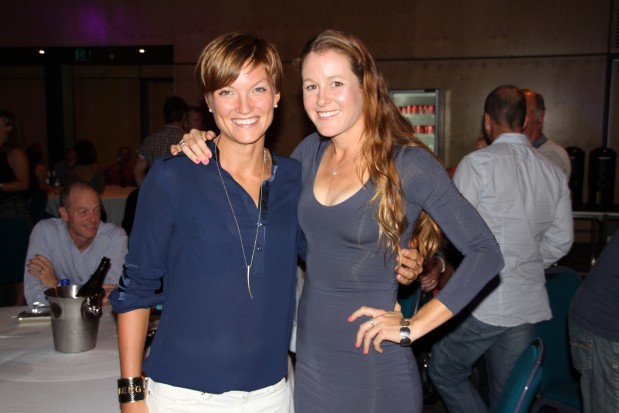 I got to thank this heroine saved my day, at the awards ceremony! Thank you again, Michelle!
Besides all mechanical issues and navigation misstakes, I felt good the whole way, and I am pleased to being able to turn the frustration into focus and still deliver some good watts, and not letting the problems along the way bring me down. The legs felt fantastic, so I'm sad I couldn't transfer that into a good time, but I know now that the form is where it should be. I had, after all, still the second fastest bike split of 5:08 h.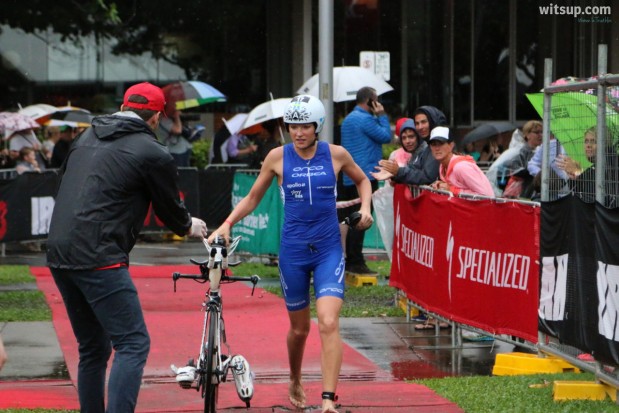 RUN:
Grateful for reaching T2 without further time-consuming problems, I began my running with a very good feeling. It was still raining, but it was not cold in the tropical environment and about 21 degrees.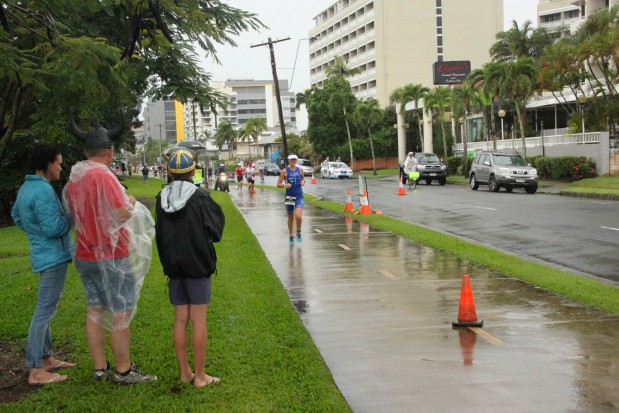 Persistant supporters!
The good feeling persisted more or less throughout the whole marathon, and despite some slippery sections and >20 pcs 360 degree turns with stopping and accelerating, I kept a steady pace.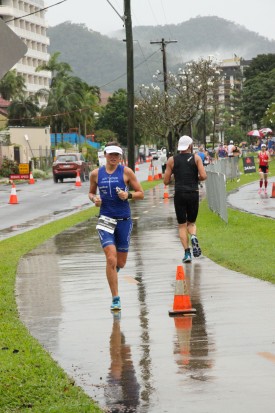 I was gaining on No. 2, former ITU Duathlon World Champion Mel Burke, but I had lost too much time on the bike, so I finished in 3rd place with a 3:09:02 marrathon,with an overall time 9:25 : 56.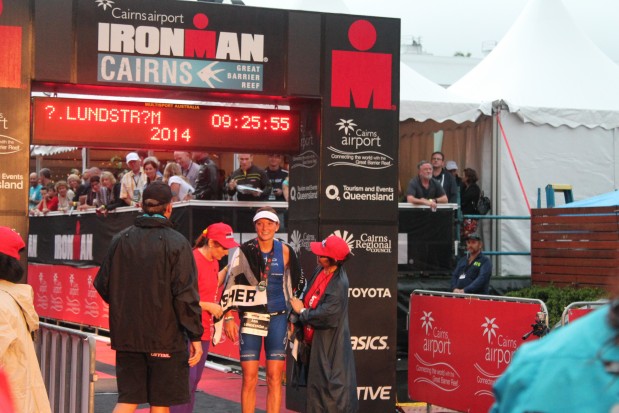 POST RACE:
My big goal of the race was a place podium and getting enough points to qualify to Ironman World Championships in Hawaii in October. I reached those goals, and despite several incidents, I am satisfied with my overall performance.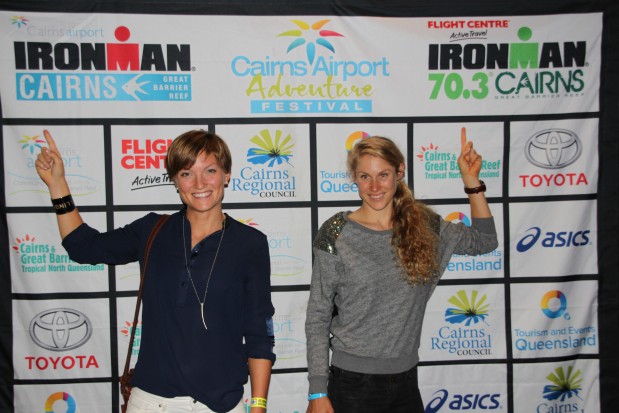 Maja, mom and I have had a few extra days in Australia to experience a bit of Cairns many assets. For example, we have been hiking in the rain forest, on diving trip at the Great barrier reef and walked along may of the beautiful beaches in the area.