Race: Ironman Melbourne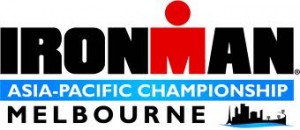 Time: 2014-03-23, start kl.07:23 am
Place: Melbourne, Victoria, Australia
Distance: 3.8 km – 180.1 km – 42.2 km
My result, time: 59:46 min – 5:02:02 h – 3:10:28 (9:16:09)
My result, place: 5:e plats
Complete results: Find it here!

Short story:
Despite my initial "time pentaly " of 4 min on the bike , as well as developing an eye inflammation , so I'm happy with my performance . Never before have I been competing so early in the season , and I competed against many experienced girls. The swimming was ok based on my swim form, the bike felt good all the way , and on the run I started and finished strong , but had a tough period in the midpart of the marathon .
An honor to stand on the starting line along with the legend Craig Alexander, who after the race announced that he will stop raceing on the Ironman distance . What a role model!
Long story:
Pre-race:
7 weeks at Playitas gave my pre-season training a boost that I had not been able to get back home. I had never raced so early in the season before, and was therefore a little unsure of my form , especially in swimming.
Since I changed the race plan from IM South Africa to IM Asia-Pacific Championships quite late , it resulted in me travellng alone to Melbourne. Thanks to the Ironman organization, I had a homestay in the small surfer town Torquay 1.5 hours south of Melbourne. It suited me perfectly, as the training opportunities is perfect there, compared to the big city. In addition, the family Leonie Abbott and Dan Frick was so friendly and did everything to make my preparations go smoothly, which they did!
Swim:
The start was from the beach, and it was pretty shallow. I got a good start but I early lost two girls that I tried to hang on, and ended up first in a group of 4-5 girls. After 1000 m Angela Duncan passed me, and I hung on for additional 1000m . When we passed two pro men, one of them squeezed himself in front of me, and when he dropped Angela's feet , I had no chance to catch Angela, as I first would pass him, which required a huge effort.
Early in the race started my left eye started hurting and aching, but I put a little thought behind it. Probably there was something in the swimming goggles that was irritating the eye.
My total time was 59:46 , which is slightly below what one would expect of me . But I knew I was not in my best swim form, and on raceday I did what I could with the conditions I had, so I can only be pleased with the effort.
T1:
As always , I thought I would die when I stood up vertically, and elevated the heartrate a few more bpm, but once I realized that I probably will survive , the transition proceeded without any problems. I realized, however, that the eye could become a problem, as my vision was a bit blurry on the left eye when the goggles came off.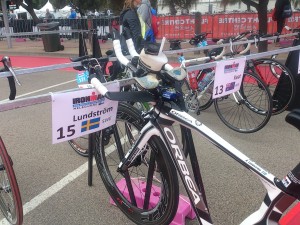 Bike:
Since my last cycle experience in Ironman was very disappointing (IM Arizona ), I had no expectations to get a good feeling on the bike. But pretty quickly I found a nice rhythm, and my legs felt very fresh.
I was alone the whole first lap, out of two , except for Mareen Hufe satying 12 m behind. With about 15 km to from the first lap turning point, the first group of  athletes AG overtook us. I realized then that I was be a bit far to the right on the highway. Before I could react , there was a refferee and gave me a 4 min penalty for blocking.
Truly enough, I was not so far to the left as possible, but considering the situation that it was apparently unintentional, and that we rode on a three-lane highway, there was still plenty of room to pass on, I found that the judgment was somewhat hard. But in principle, I didn't as far to the left as possible, so there was no point argumenting. It was my misstake not paying enough attention on where I was on the road.
I pushed the pace a bit to the penalty box, and I still felt strong. In the penalty box I realized that the left eye was hard to open because of pus. But it was not so much to do abut it there and then.
A 4 frustrating minute countdown, cyclists passing by, and then chasing continued.
The legs felt ok every time I tried to push the pace, and I felt strong the whole time. Sure, I looked forward to get off the bike the last 30 km, but I had a good cycling day, the time penalty notwithstanding.
Official Cycle Time : 5:02:02 h incl 4 min time penalty
T2:
We practically rode straight into the changing tent, so T2 was fast, and also went smoothly.
Run:
I found a good rhythm unexpectedly fast, and I had a good pace. I assumed that I would not be able to keep the pace all the way, but because it felt better than usual, I kept the pace where it felt natural at the time.
After 12-15 km, it started getting hard, and I fell a bit in pace . I was struggeling for about 10-15 km in the middle of the marathon.
After the race, I spoke with several other professionals, and all described the same part of the course to be challenging to them. Just when I started to struggle, so I passed Mareen Hufe, who were behind me when I got my penalty on the bike. Only 2km later I waspassed by of the American Kim Schwabenbauer, who set the fastest run split of the day.
The run was a point-to-point run, and we ran on all types of surface. The last half of the marathon was in more undulating terrain than I had expected.
As in previous competitions I got a "second wind" with about 12 km to go, and I pushed the pace a bit more and overtook another position, the 70.3 expert Angela Duncan who was struggling. It ended with a 3:10:28 marathon, a total time of 9:16:09 and 5th place.
I went directly from the finish line to the medical tent and so my eye could be taken care of. It required some cleaning and local antibiotic therapy.
Post -race:
Despite my first ever (and hopefully last) time penalty in a race, I am satisfied with my performance. I was a bit disappointed with my run, but after talking to other athletes, and comparing my time with my competitors , maybe it wasn't too bad after all. But I definatly have a faster marathon split in me!
I did not know what I could expect of my self, in a race that is in off season for us Europeans. All girls placing ahead of me have several more years of experience than I do, so being able to position myself so relatively close to these girls, despite a penalty , bodes well for the future, and I am satisfied with my day.
The eye has been treated with antibiotics for 2 weeks now, and after receiving some stronger medicine, it seems like the eye infection is finally starting to wear off and I hope to soon begin with contact lenses again .
Follow me on my Facebook athlete page, or on Twitter/Instagram @AsaLundstromTri to stay updated on a daily basis!