Race: Challenge Fuerteventura
Time: 2014-04-26, 08:00 am
Place: Playitas Resort, Fuerteventura, Spain
Distance: 1.9 km – 90 km – 21.1 km
My resultat, time: 30:25 min – 2:44:09 h – 1:29:13 (4:43:48)
My result, place: 7th
Pre -race :
As I raced an Ironman just over a month ago, in Australia, and I am planning to race again soon, plus with qualification to Ironman Hawaii as my main goal for 2014 , there was unfortunately no space to prioritize this competition as an A- race. I had two weeks of training at Playitas Resort leading up to the race, and in the first week I could still notice som fatigue from IM Melbourne. In the second week, I didn't taper the way as I usually do before an A race, as I need as much time as possible preparing for the next Ironman. With that said, I had to adjust my expectations on the race and I put the focus on details, and I tried some new things to see how it would work while racing.
Swim:
A bit unexpectedly chaotic start, with the pro men and all the females starting together, and I ended up swimming alone. I focused on keeping the frequency high and find a rhythm, and at the end of the first lap, out of two, I was catching up with a few other girls. However, I somehow lost them again when we swam into the waves, where I found it hard to keep a rhythm. Again, at the end of the second lap, heading towards land, I caught up with them again.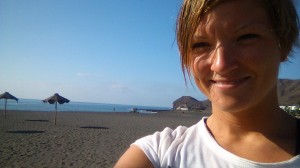 T1:
It was long run from the beach to the transition area, so you had your heart rate shot through the roof. Perfect training doing a fast transition in those conditions.
Bike:
As usual it was a windy day on Fuerteventura, but the wind was steady so it was not so scary decending the mountains as it can be sometimes. The race course is challenging with several climbs, but very diverse, so  it was fun. I quickly found a rhythm, and felt strong the whole way, but I stayed within my "comfort zone " without taking any chances.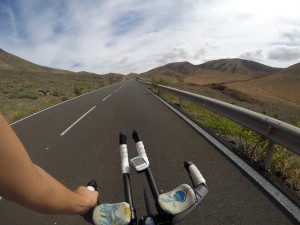 T2: Swop , it said , so be it through. Quick and easy exchange process .
Run:
The run course, is quite demanding with both wind and hills. Also on the run, I didn't push the
pace too to the limit, but focused on a good rhythm, which was pretty difficult. On the second lap (which was half as long as the first lap ) I found a better rhythm than what I had on the first lap and I started to close in on Simoni Brändli, whom had a 100m advantage the whole run. I made ​​an attempt to speed up, and managed to pass her in the last downhill.
I expected my good friend Maja, who ran 1:17 half marathon world championships a few weeks earlier, flying past me on the run, but when she had not passed with 1.5 kilometers to go, I began to hope that I could keep her behind me. But even though I did what I could, she flew past me with about 400 meters from the finish, and she passed the finish line 10 seconds ahead of me. A bit frustrating, but on the other hand, she passed a lot later than I had expected, and then it was a prioritated race for her, I find it okay for her to pass me- at this contest anyway. 🙂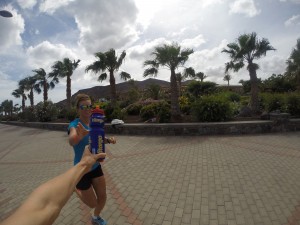 Post -race :
Despite a small race, the atmosphere was great. Since many professionals choose the Canary Islands as a winter training location, many pros choose to race here, and of the starting field, about 15% were professionals.
Now I have a few weeks at home, with a solid block of training block to get back on their feet . About six weeks is that time again !