Race: Ironman World Championships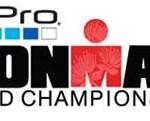 Time: 2014-10-11, start kl.06:30
Place: Kailua-Kona, Big Island, Hawaii, USA
Distance: 3,86 km – 180 km – 42,2 km
My result, time: 1:06:43 min –5:11:42 h – 3:13:33 (9:36:22)
My result, place: 17th place
Complete results: Find it Here!
Short story:
The race of all races for long distance athletes: Ironman World Championships. I was on site 2.5 weeks before the race, and the weather was never as tough as on race day. Severe swimming, in which I did my best, very strong winds on the bike leg which mostly consisted of head wind and gusts, where I had a big energy dip at the end. The run was relatively easy, as the winds and clouds lowered the temperature a bit. I did not have a good feeling when running throughout marathon, but still ran pretty solid. I am happy with my solid performance in my debut at IM WC, but I know I had more to give. Maybe I had too much respect for the race and my competitors, which inhibited my performance?
Long story:
Pre-race:
Me and coach Jens arrived 2.5 weeks before the race. I had spent three weeks in Mallorca leading up to the race, so I was somewhat acclimated to the heat. Still, it felt good to be on site well in advance. The humidity is something else than in Mallorca, with its 80-90% humidity, even though the temperature was more or less the same (30-33 degrees celsius, 90 F). In addition to Jens, also my boyfriend Filip, and big parts of my large family came before the race and formed the best team supporter. Even our great friends Klaus and Kristing from Reno joined the supporters' team!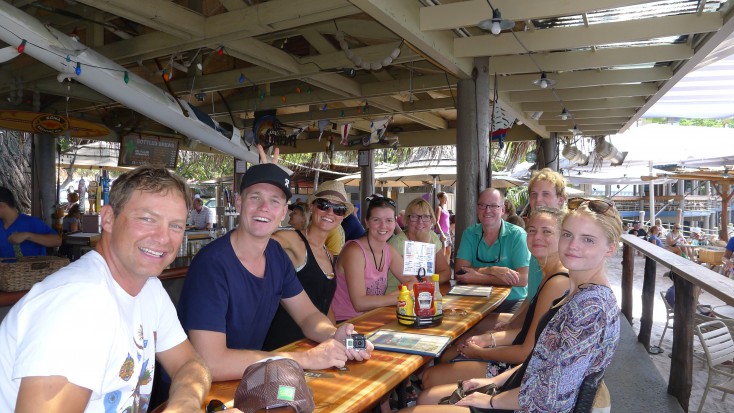 I had good opportunities to train on the race course, and when I started taper, I also felt in great shape. I was actually in better running shape than ever before. It was a cool experience to see the little weary surfer- / fisherman village grow into a triathlon inferno in few days, and it was with mixed feelings that I looked forward to the race. The race with a capital R. The start list almost gave me the chills, as every girl had a theoretical chance for a top-10 placing. I felt humbled that my name was among all the talented girls.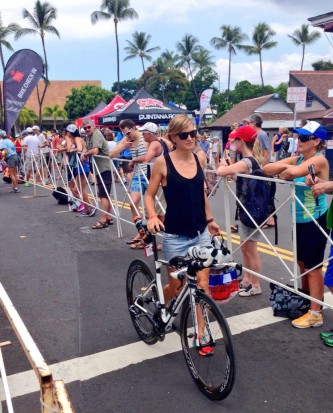 SWIM: 1:06:43
The sound of the waves scared me when we walked towards the transition, and revealed the water was not as calm as most mornings since my arrival. It was my first non-wetsuit race, and poor swimmers like myself, wished that currents and waves would not be extra strong today. I mentally prepared myself on a slow swim.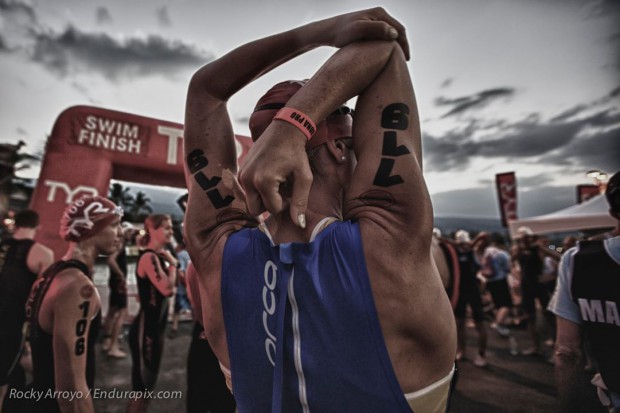 I got a pretty good start, without too many kicks and punches, but as I did not want to accumulate too much acid this early in the race, I do not max out, and therefore lost the group in fromt of me. Just as usual, the tempo dropped a bit  after a few hundred yards, and I was able to focus a bit more on my technique, and I was caught up with the group again. However, I was last in this group, which gave a rubber band effect, and the pace was very jerky, and thus exhausting. I also got the feeling that we didn't navigate completely straight, but it may also have been the effect of lying as the last person in the group.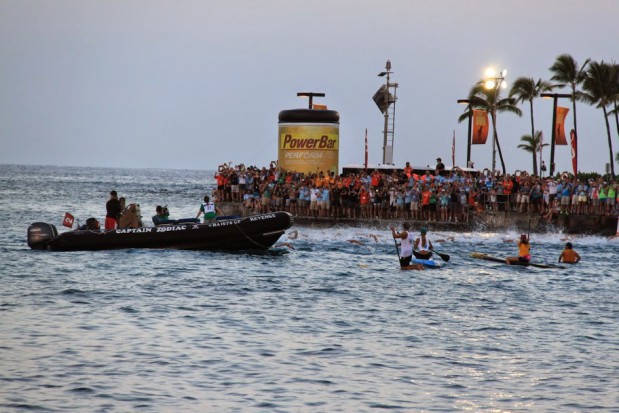 The pace felt sometimes a bit too easy, and I cursed myself not having maxed out in the start. However, I made a few attempts to work my way through the field, but it costed me too much energy, so I accepted my position at the pack. The last 600m of the swim, as we approached the pier, the group set up the pace again, and I really had to pull myself together to keep up.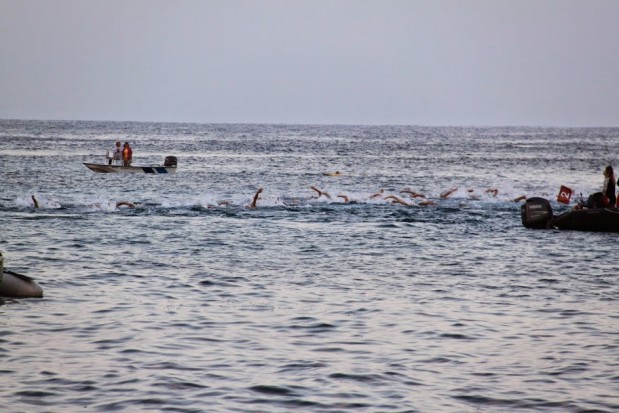 The time 1:06:43  is not very fancy, but taking in consideration with whom I was in the same group as (Linsey Corbin, Lucy Gossage, Corinne Abraham, Sofie Goos, Yvonne van Vlerken others), which was what I would have expected and that's about where my level is., I can only be  pretty happy with my performance. But let's conclude that there is potential for development, shall we?
T1:
First experience of a non-wetsuit swim, with an about 600m finishing sprint, turned T1 into a run with  lots of lactic acid in quads.
BIKE: 5:11:42
The bike leg was, just like T1, initiated with acid in the quads. I thought that this might become a very long day.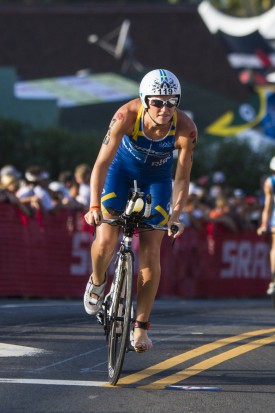 Luckily, I found my pace, and I was informed that I had 40 seconds up to a smaller pack, so the first 35 minutes, I rode over my planned intensity to catch the group, containing Linsey Corbin, Yvonne van Vlerken and Corinne Abraham. Once there, we overtook a few girls, and it was a cool feeling. I'm not used to race with so many competitors at my level, as I usually spend the day chasing the strong swimmers. Towards the end of Queen K Hwy we were heading into pretty strong headwinds. The winds made ​​it difficult to find a rhythm, and the bike leg was more energy consuming than usual.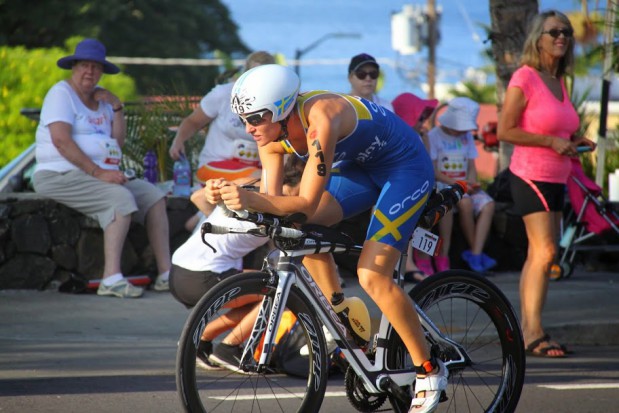 When we turned towards Hawi in Kawaihae, the headwind turned into some kind of parody of strong headwinds and treacherous cross winds. Some of the girls started losing on Yvonne, and I tried to close the gap, which ended us two riding alone.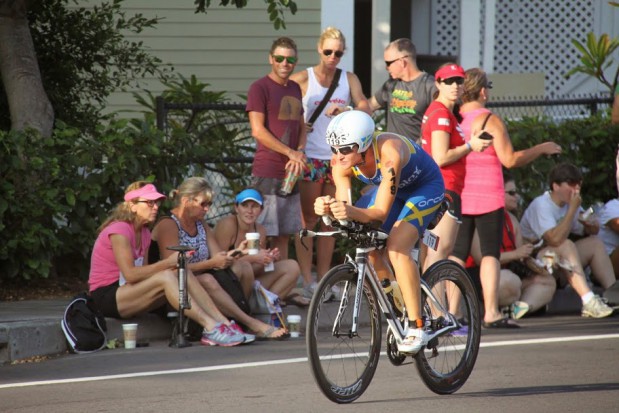 On the way down from Hawi was so hard that even I, a relatively strong rider, had to  hold on to avoid being swept off the road. I had to work hard to keep up on Yvonne, who obviously had far more experience of racing in these conditions than I did.
When an AG male overtook us, Yvonne followed his lead (on a permitted  distance), but I felt I had already invested a lot of energy to keep up the  her, and to close the gap going up to Hawi,, so I did not dare to invest again and try to follow them. I dropped back focused on my own race.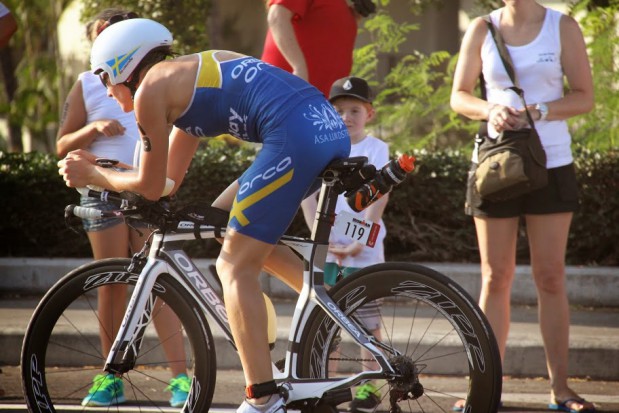 The stretch from Queen K back to Kona was a big challenge, perhaps the mostly mentally. Headwinds was relentless, and when I was all alone out there on the lava fields, it was not easy to keep the intensity and motivation.  I do not know if it was temporary low  on energy that caused a mental exhaustion, or if it was vice versa, but either way I lost a lot of time between km 120-160. Yvonne and I rode together until km 120, and she had a 6 min faster bike split than I did.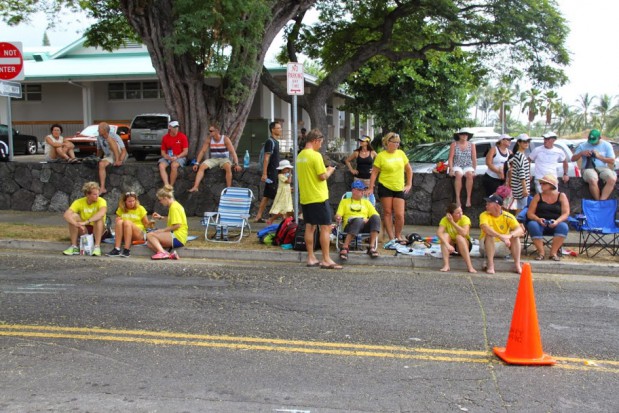 Maybe I had too much respect for the race and my competitors, and I should have tried to hang on to Yvonne when she took off with an AGer. Or maybe I did  just the right thing, as she pulled out later in the race. One can only speculate, but this situation is one of many tactical scenario throughout over the race that I had not taken a consideration before the start. I've never raced with so many on the same level as I before, and was not prepared for these situations.
T2:
I put all my focus through T2 to reset the mind and work it into a positive mindset.
RUN: 3:13:33
After such a tough bike leg, I believe that many had to dig deeper than usual on the run, myself included. I felt heavy from the start, and I never really found a rhythm. I said at an early stage to Filip (who luckily did not hear me) that I did not want the split of my competitors. I was convinced that I was loosing time, and at the time I didn't care. I just wanted to cross the finish line.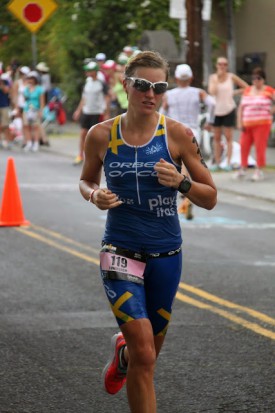 The run course is undulating, which contributed to the difficulty to find a good rhythm. However, the winds created a nice breeze, and as it got more cloudy in the afternoon, the temperature dropped a lot on the run.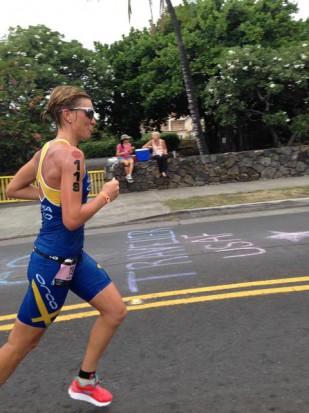 I did my best to think positively, and to focus on a few things in the running technique and not to give up, but it was not so easy this day. And it didn't get any better when I wasn't able to stick to my nutrition plan. All professionals got a special needs depot on 6 occasions on the race course, which was an incredible privilege. I had prepared with drinks and salts, which I would take at each station. For each station I passed, I was told that I had no private energy here. Each time I got that message was a mental set-back,  and each time I had to focus hard not to let the negative thoughts take over. I can not say whether it had an impact on my performance or not, I did after all get gels and sports drink in each aid station, but maybe I would have needed a little more salt, and the mental aspect should not be underestimated.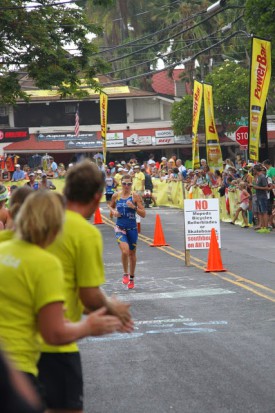 I have proved to myself that I can finish strong in an Ironman. This time was no exception, although I did not have that last extra bit with 12-15 km from to go, only from around 3-4 km fromt he finish. But that was enough to make eye contact to Leanda Cave. After an increase in speed, which even surprised myself, I was able to cross the finish line one second ahead of her, in 17th place.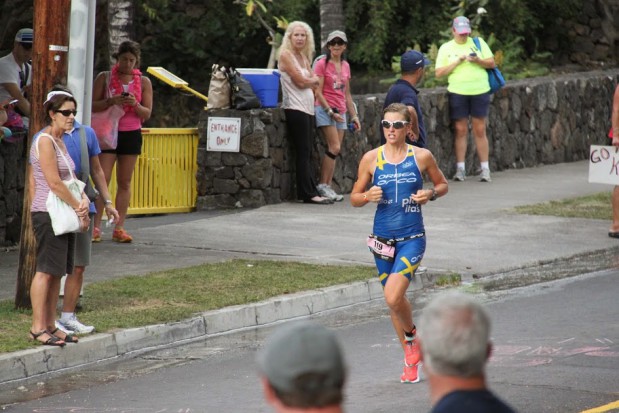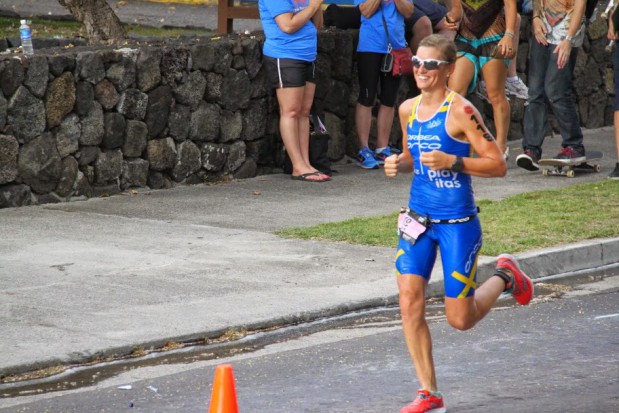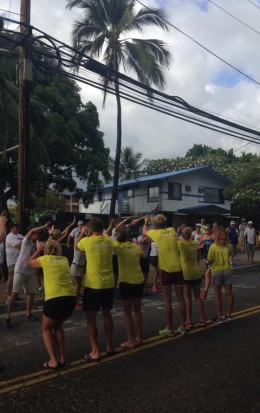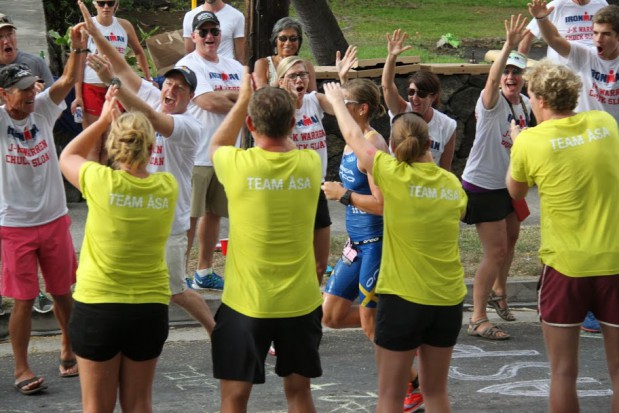 I was extremely pleased and relieved when I crossed the finish line, but the same time it annoyed me that I had the reserves to sprint the last 500m. Not only did that mean that I had more energy to preserves than I thought, but I had a mental barrier that prevented me from giving everything I had on the course. I think it's completely of mental causes. Either I did not manage to transform the negative thoughts into positive drive, or I just had too much respect for the race, the course and my competitors, and did not think I was capable of more – or simply didn't dare to take some risks. Regardless the reason, it's a lesson learnt and I will be able to work on it until next years race.
The 3:13:33, marathon was not such a poor time based on how it felt.
Post-race
Overall, I can only say that I am happy with my debut in Ironman Hawaii's pro field. Under the hard conditions on race day, it's hard to have a brilliant day, and in this start field, I can be nothing but happy with a top 20 finish. I know I have more to give, and with the many lessons I have learned from this year's race, that is exactly what I am planning on doing in next year's Ironman World Championships!