Race: Danish sprint championships
Time: 2013-05-02, start at 14:01
Place: Ganløse, Denmark
Distance: 750 m – 23,2 km – 5 km
My result: 11:41 min – 35:11 min – 19:17 min (1st place)
Complete results: Find it here
Short version:
All three disciplines felt ok, and I finally got to complete a race without problems with neither materal nor stomach. Training the past months has indicated a progressive form, and today I got that confirmed in a race. But not only was my splits improved this day, it was enough to win the Danish Sprint Championships.
Long version:
Pre-start:
Unlike most of my teammates from OTK, I chose not to go to Ganløse the day before the race, to train on the race course. Since I have raced on that course two times before, I chose to have a quality Saturday with my boyfriend and friends instead.
The day started with a long breakfast on the balcony. Can hardly remember last time I had such an easy morning, with time enough to take a relaxed breakfast in the morning sun. After riding a small ride to make sure the material was spotless, and a short run to make sure the legs were alive, Filip and I took a walk with some friends to have ice-cream and the we had a barbeque. What a great way to prepare for a race!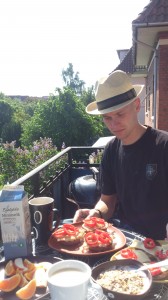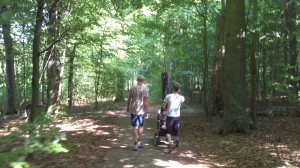 The people I was going with to the race were starting quite early, so I had plenty of time to cheer for the others from the club, and to get ready for my own race.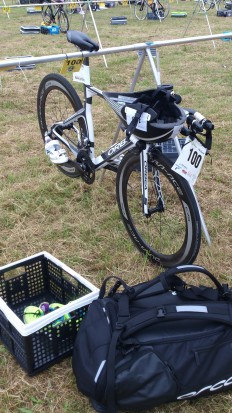 Swim:
What makes this national championship race so special is that it is a time-trial race. The pros started with a one minute gap, and the one who was seeded as the fastest, started last. I started second last, after my teammate Michelle Vesterby.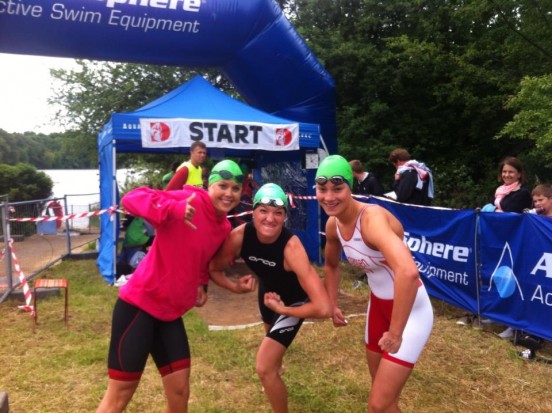 The water temperature was 20,6 degrees C, which ment that wetsuit was not allowed, and that you were to race in what you swam. Since the air temperature was not more than 15 degress, I chose to race in my Orca RS1 Swimskin.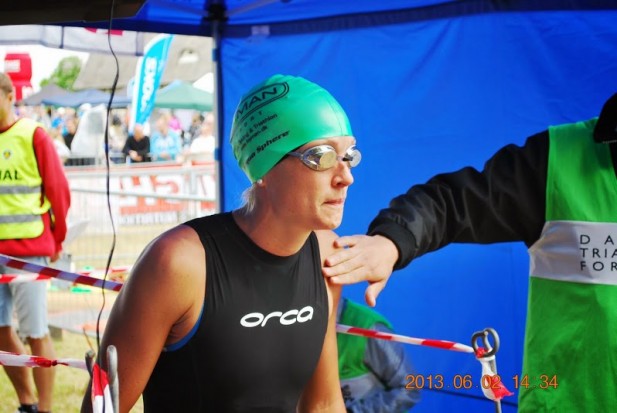 When I started, I ran down to the dock, and dove into the water. Unfortunately my goggles was filled with water from the lake, and I had to stop to empty them. I only lost a few seconds, but in a sprint distance that could be devastating.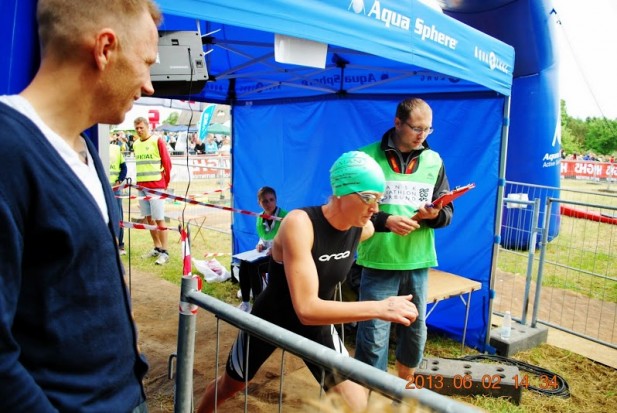 The rest of the swim felt ok. It's  was a bit hard to push yourself to the limit, when you are racing all alone. But that is also one of the fascinating things with time-trial. I expected Michelle, who is a strong swimmer, to overtake me earlier than she did, so when we entered T1 together, I was happy that I hadn't lost much more than a minute on her. My official time was 11:41, which was 40 sec faster than last year, when the race was a wetsuit swim.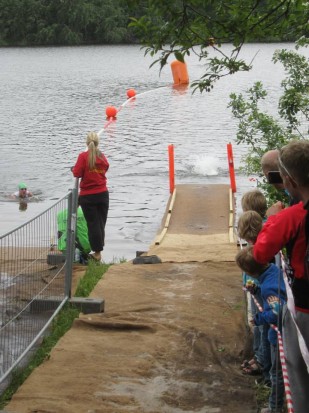 T1:
Not much to comment, things passed as they should have.
Bike:
Excited T1 only a few seconds behind Michelle, but I noticed that my legs felt fresh, so I decided to try to push the pace from the start. Expected Michelle to stay on a 10 m distance from me, since that was enough for her because she still had one minute on me, but after one loop I couldn't even she her behind me.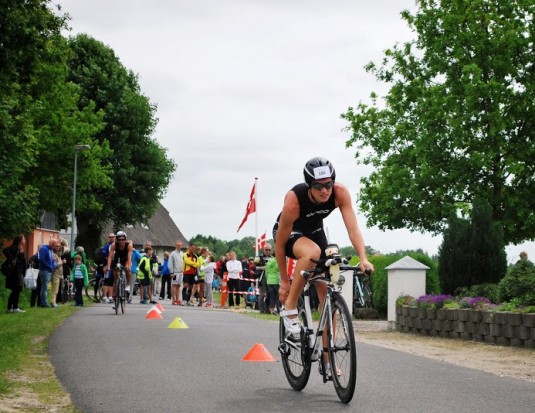 I tried to push the pace even harder on the second loop, which I managed without ever feeling that I crossed the lactic threshold, and with the fastest bikesplit in the women field, and 2,5 min from the fastest male split.
T2:
I lost a few stressful seconds in T2 when I was ordered to turn my bike the other way around on the stand.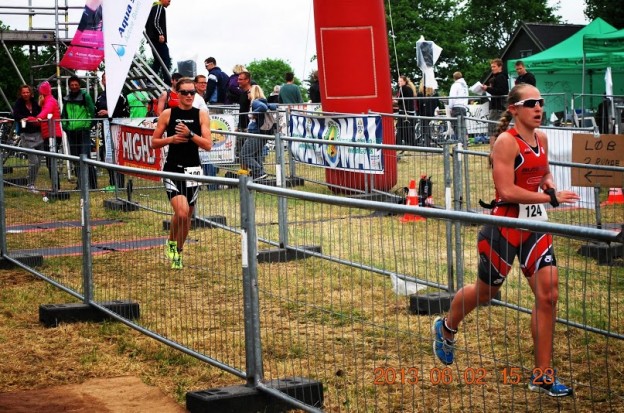 Run:
The run was held on a grass- and gravel path, and even though it is quite flat, it cannot be considered a fast run course. I got information that I had a one second lead to Michelle, but that the U23 Line Thams had around 6 seconds on me. This information was not completely correct, but I found out that it was going to be a battle of seconds for the victory.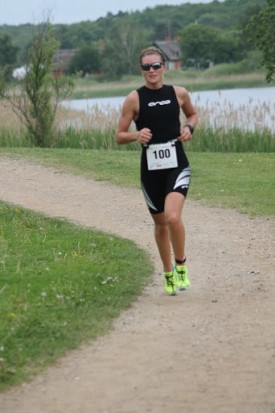 I was really exhausted when I crossed the finishline, without knowing the result. I got information that Line had lost many seconds on the second, and final, run loop, so it was between me and Michelle for the gold.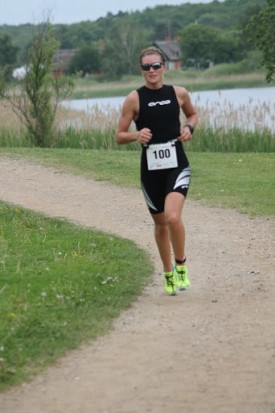 The waiting for the last starting girl, Michelle, to finish, felt like neverending. Once she finished, I found out that I had a total time that was 13 seconds faster than hers, and I was thereby Danish Sprint Champion.
My run time was 19:17 (3:48 min/km accoring my Garmin, on a slightly long course). Taking in consideration that this is not a fast course, I am very happy with my run.
Post-race:
Sprint distance isn't really my type of distance, and wetsuit swimming is not really my type of OW swimming, but time trial triathlon, where you can't be tactic and benefit the others in the start field in different ways, seems to be my thing. It really feels good to get confirmed, also in race, that I am in better shape now than last year, and that I have developed.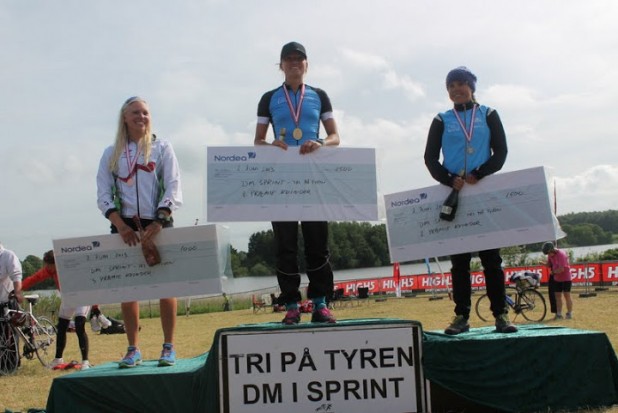 As me, Michelle and the junior Ditte (who was 4th overall!) were the three fastest athletes from the same club, we also won Danish Championships for team. Two Danish gold medals to the only Swede in the start field. Feels quite good.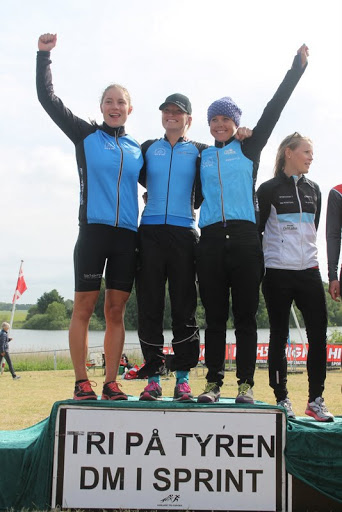 Now the focus will be the last hard training block up to the first A-race for the season: Ironman Klagenfurt 30th of June.
Åsa