Race: Ironman Asia Pacific Championships Melbourne
Time: 2015-03-2, start kl.07:23
Place: Melbourne, Victoria, Australia
Distance: 3,86 km – 180 km – 42,2 km
My result, time: 1:00:20 min – 4:48:10 h – 3:10:37 (9:02:49)
My result, place: 4th place
Complete results: HERE
Short version:
Execpt for a navigation mistake from my group during the swim, I had generally a solid day where I felt strong and I managed to work through the dips, and took advantage of the highs.
Long version:
Pre race:
This was the first time that I would race a race a second time, and I had the same time set up like last year; 3 weeks of base training on Playtias Resort, Fuerteventura, 1 week of alternative training and skiing, followed by a 4 weeks block of training again at Playitas Resort, and then tapering in Torquay, Australia, with my new friends and lovely home stay Leione Abbott and Dan Frick. Read more about the training leading up to the race here.
It was nice to prepare for the race in a familiar place, where nothing was new, I knew people there and everything about the event was familiar. It made the mental preparations more easy, which resulted in a calm before race day that I have not experienced before.
SWIM: 1:00:20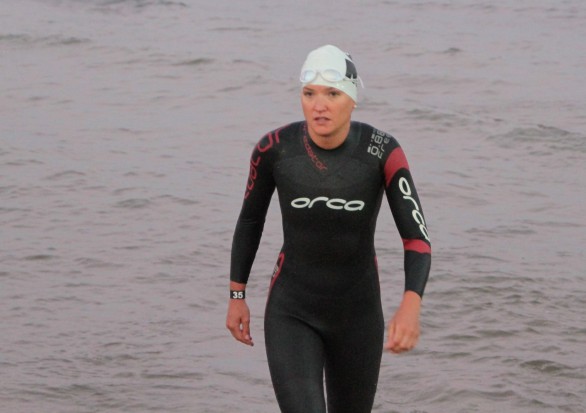 With a beach start, and fairly shallow water, us pro women had a fairly close start. Unfortunately I lost the group as I had intended to try to hang on to, and ended up way back in the slower group.
After the turn at the second bouy, my group lost navigation, and there was great confusion in what direction we were going. Unfortunately, we got no guiding from the lifeguard, so it took a while and many breast strokes, before we were back on track and I realized that we had swum a detour before getting to the next buoy. To be frankly, that pissed me off, and it gave me the boost of adrenaline that I needed, and I was in front of the pack for the rest of the swim.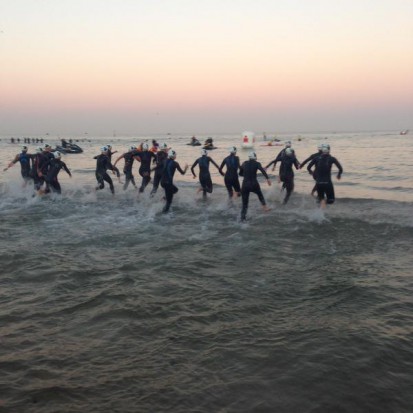 Besides the detour, I had one of my best swims, a lot thanks to the new material over the shoulders of the Orca wetsuit (0.88mm Yamamoto), which prevents my shoulders to be as fatigued in the end of the swim, as I used to get, and I can to a wider extend maintain momentum. It was a bit unfortunate that the good feeling is not reflected in a good time, but I'll take the experience with me to future races.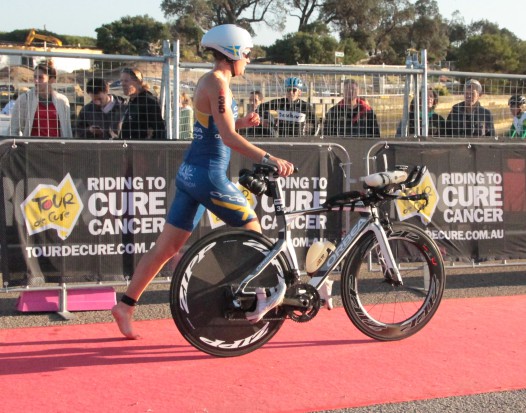 BIKE: 4:48:10
The bike leg was out and back two lapped course on a highway with rolling hills, so it was not so much to consider, other than to get in to aero position and try to find a rhythm. It took a while before I did that, and I was struggling a bit in the start of the bike. But some time and patience later, I had found a good rhythm and I was in front of a small group almost the entire first lap.
Just as we were going out on the second lap, we had been caught up by a few AG-athletes. I tried to overtake them, but because of an increasing headwind on the way out to the turning point, it was very hard not to get caught up in the group, despite a 12 m gap. After the last turnaround, we managed to split the group in the tailwind and me and Mareen Hufe came in to T2 together.
Despite this, I managed to ride at a quite stable pace, and coming in to T2, I was in 5th place.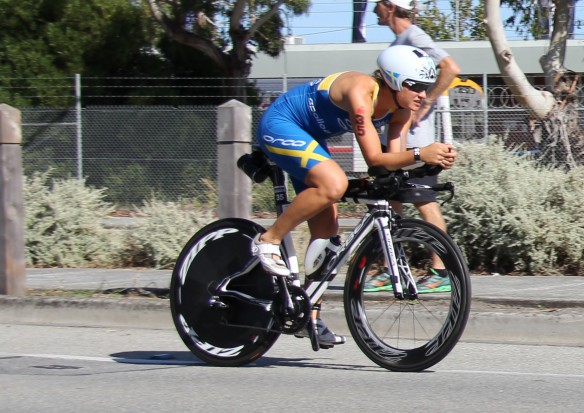 RUN: 3:10:37
The unique point-to-point run along the bay in Melbourne suited me quite well. Unfortunately, we had headwind more or less all 42 km, which would leave no record running splits, but after weeks of training in Fuerteventura, where the winds often are strong, I didn't consider this to be a disadvantage for me. The nature of the course made it easier mentally by dividing it into different blocks, and thanks to having my coach Jens Lünekilde on site, I was able to get a good overview how I did in relation to the others, even though you did not see them.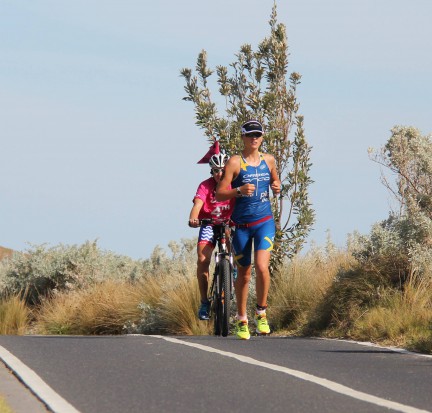 I lost time to the front, but kept the same pace as Yvonne van Vlerken, who was in 3rd place. But, I knew that the speedy runners Mirinda Carfrae and Beth Gerdes quickly approached from behind, but luckily I had created a gap big enough on the bike, that they didn't caught up before I reached the finish. With about 4 km to go, I passed IM rookie Anabel Luxford (who did a very impressive debut),  and I finished in 4th place, with a new personal best and Swedish record. Because I switched shoe brand that fits me better for the 2015 season, I was not near as fatigued in my calves as last year, despite the fact that most of the run was on concrete and asphalt.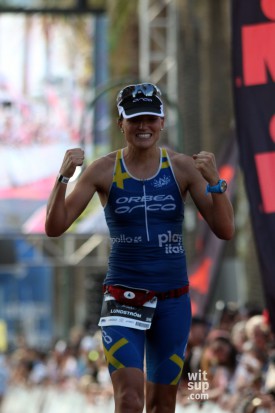 Total time: 9:02:49.
Post-race:
I had felt during the training leading up to the race that I stronger than ever, and this was a gratifying confirmation of that. I felt strong and solid more or less all day, and I placed myself better than I had even dared to hope for in such a strong field. It was a good start of the season, and I got some valuable points for the Kona qualifications.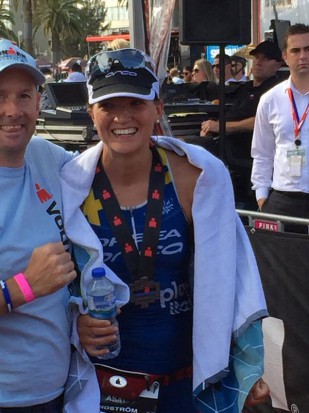 I would like to take this opportunity to thank my sponsors who stand behind my season 2015. Thanks to them I can commit 100% to the sport and their believe in me and my potential means a lot.
Thanks Orbea, Orca, Milebreaker, Suunto, CeramicSpeed, Apollo, Playitas Resort, Oakley, Saucony.
The next big event will be the Ironman South American Championships in Brazil in May. Before that, will I race the Half Challenge Fuerteventura to get a race with a bit more speed. But first and foremost I will go to Sweden to eat lots of colorful eggs with my family and go skiing.