Race: Ironman Klagenfurt, Austria
Time: 2013-06-30, start kl.06:45
Place: Klagenfurt, Austria
Distance: 3.8 km – 180 km – 42.2 km
My result, in time: 51:49 min – 5:00:15 h – 3:07:14
Miy result, place: 2nd place
Complete results: Find it HERE
Short version:
Today was a day where a new pace was to be tested. I stayed fcused on my pace, without taking any risks. A safe bet, and it ended in a second place. A great event, impressive organization and I am very satisfied with my result.
Long version:
I arrived to Klagenfurt, Austria, already on Tuesday before the race, so I had plenty of time to check out the course and get comfortable in the new invironment. My homestay, Alexander, was amazing, and he treated me like a royal. He guided me around and told me everything I needed to know before the race, in order to be prepared for the race. To thankful for that. Thank you, Alex!
The reception when I came to Klagenfurt, the organization's work and structure impressed me from the start. I understand now that it is possible to organize a competition for nearly 3,000 athleter, only it is a great organization behind the event.
Me and Andreas Raelert at pressconference (might be the sports most humble person!)
Pressconference with CEO Ironman Europe and Africa.
Parts of my lovely family combinded vacation with race support, which made the whole experience even bigger.
Swim:
The swim was held in the stunning Lake Wörthersee, where the water is so clear and pure that it is drinkable. I have never swum in so pleasant water, ever. No, not even at home in Dalarna beat this lake. 2.8 km of this swim course was held in the lake, and during the last 1000m we swam in the canal that runs through town.
. 

The Pros, about 70 athletes, started at the end of a pier, while the AG started by the shore. I had practiced diveing from the pier, and felt pretty confident with that type of start. Despite that, I got a pretty bad start, and it was more fight and climbing on eachother than usual. I got into a big second group, but in the front of it. My tactic was to swim as fast as I could the first 200m, and then trying to keep as much intensity as I only dared.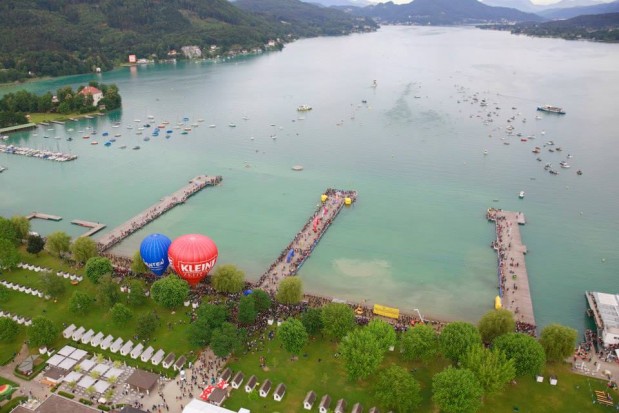 I ended up swimming next to Eimar Mullan, who had swum few seconds faster than me at Challenge Fuerteventura, so I tried to stick to her. We caught one of the groups in front. In the canal we swam fast, and the atmosphere was fantastic, with lots of spectators cheering along the side. My official time was 51:49 minutes, on a fast course with a fast last kilometer, but compared to other athleters swimming times (and you know their level), I am very happy with my performance, and it's the Ironman Distance Swimming where I had the best experience, so far.
T1:
There were no complications,so I am satisfied with my T1.
Bike:
The 180 km, was divided to a two lap course, in the stunning surroundings of Klagenfurt. The scenery was stunning. If it wasn't for that I had a pulse of 150 bpm, and that my legs were pcovered with sports drink and sweat, I could have thought I was  in a scene from "The Sound of Music."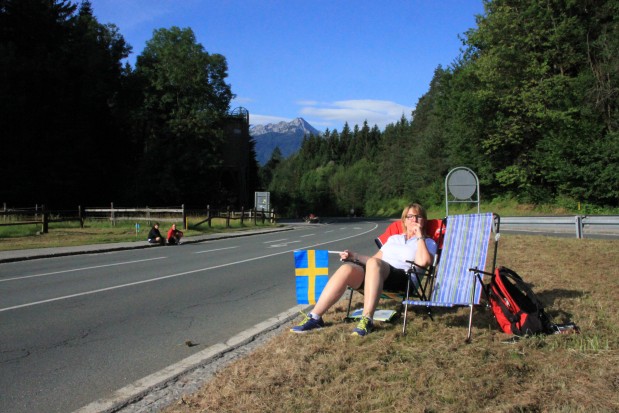 My mom in the clam before the storm.
I was to try off a new pace, which was quite higher in watts, compred to last time I did an Ironman. I knew I had developed from last year, but we didn't know if the new pace was suitable. Therefore, I chose to stick to my pace, and not take any risks. Even when Erika Csomor, and later Sarah Pampiano, overtook me, I stuck to my own pace. In retrospect, perhaps I should have followed them, because I was so tired coming into T2, as I had expected to be. But I stuck to the plan, kept my pace and was better safe than sorry. I am still learing a lot, and today I learnt – push harder!
My time, 5.00 hrs, was two minutes slower than Erika's, who had the fastest bike split.
T2:
As I was in the changing tent, trying to get my socks on, I got a camera in your face and a mic under my nose. I got a bit distracted when they started asking me questions, so I hurried even more to get out of the changing tent. Thank's to the camera crew for a fast T2! 😉
Run:
I needed about 2-3 kilometers to find a rhythm, and then I tried to find autopilot and just focus on the splits for each kilometer. I had a dip about halfway, but besides that things went pretty well. I was 3rd when starting the marathon, but got the sceond-female-bike quite early, but Erika maintained her lead, and the lead even increased during the run.
Although I kept the pace I planning to keep, I knew that there were faster runners coming from behind. It's incredibly mentally stressful to know that you are being chased from behind, and the last 5 km on the two-lap courae, I focused on nothing but my own pace, and keeping that pace.
Although I barely believed it myself, I managed to keep the fast runners behind me, and I finished in second place with a 3:07:14. It was a personal victory for me, that I managed to keep my pace, proving that I have improved my run from last year.
Geat atmosphere
Great feeling
Great amount of fatigue
Great size of bear
Not so great flavor (think I will never learn to appriciate bear)
Post-race:
With a total time of 9:04:42, I got a new personal best, and I am also the new Swedish record holder for Ironman distance, after 2012 Duathlon World Champion Eva Nyström. For a week I had also the Scandinavian record, but it lasted only a week, as Camilla Pedersen from Denmark won Ironman Frankfurt (European Championships) at time 8:56:01. Really well done of her!
The overall experience of Ironman Klagenfurt has been absolutely amazing, and I hope I get the chance to race there again. If you have the chance to compete there, do it! One of Europe's largest and most iconic Ironman races, and a great organization, very scenic surroundings and a fantastic atmosphere.
On the way home we stopped at Lloyd Thomas in Frankfurt. He owns CycleFit.dk and is a really talented bikefiter. So now I'll ride faster, and using less energy. (The picture was taken before adjustments).
After relaxing few days in the backseat of a car, I will spend the next two weeks in my beloved Dalarna, Sweden, where training will be rebuilt to a level that will hopefully strengthen my form even more. Next goal awaits in September in the United States – Ironman Lake Tahoe.